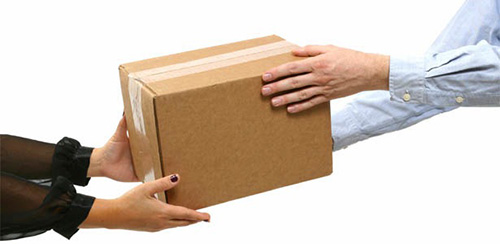 SHIPMENTS AND RATES
How are the shipments:
Shipments are made by express courier SDA.
The rules of our couriers:
The courier does not delivery on Saturdays, Sundays or during national holidays.
Packaging always accurate and professional:
The products are carefully wrapped and packed in different ways depending on the size of the goods and of the quality of the original packaging of the manufacturers. For articles of small or medium-sized
size is always provided in the packaging with bubble wrap protective to safeguard the contents and any shocks during transport.
Shipping rates:
The cost of shipping is indicated in all our listings, for Italy the shipping is free.
Insured shipping:
Each shipment is insured and there are no additional costs.
Payment on delivery:
For those who want to pay for the delivery, Leather goods Through offers also the service delivery:
The form of payment is in cash to the courier upon delivery.
Products are shipped within 24 hours from the receipt, or in the case of delivery within 24 hours from the confirmation of the order.
The same may change for reasons of force majeure; Leather goods Through will not be responsible for any delays. In these cases, you can
to contact customer support, we will always be happy to answer and resolve any problems.
Receipt of products:
At the time of delivery of the goods the customer is obliged to check:
The number of packages delivered is as indicated in the invoice
That the packaging is intact and not altered even in the closing strip
In case of tampering and/or breaks the customer will immediately challenge the shipment and/or delivery putting the word "subject TO CONTROL COMMODITY" on the delivery document
received by courier or by another operator. The customer then must report any damage within 3 days from the receipt of the goods according to the methods prescribed by the operator chosen for
the shipment and/or delivery. In the event that the customer fails to collect within 5 working days the goods ordered and in stock at the warehouses of the courier and/or goods Through because of the repeated inability
of delivery to the delivery indicated from the customer at the time of the order, the same will be cancelled and the product will be returned to the sender.